Jul 20, 2015 – New Products – by Shannon Gojanovich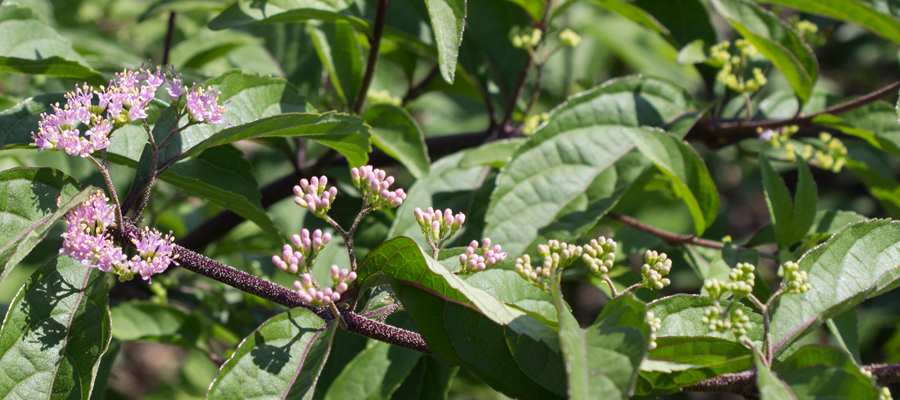 Often times, flowers take the spotlight when it comes to the aesthetics of a plant whether it be large Hydrangea blooms or fragrant garden roses.  However, what arrives after the blooms can be just as outstanding and worth the planting alone. Later in the season, it can be the berries' time to shine, and here are a few recommendations.
Callicarpa dichotoma, commonly known as Beautyberry, is a graceful, deciduous shrub growing up to about four feet high and wide. The arching stems feature small, lavender cymes in the early summer alongside the lush pointed, green leaves. Come September, the brilliant purple berries develop giving true meaning to this shrub's name through fall.
Many Viburnums offer a stunning show of berries later in the season, but my favorite has to be Viburnum dilatatum 'Michael Dodge'. Growing to about 5' high and 6' wide, this species creates a beautiful display of abundant bright yellow fruit that brilliantly glow against the scarlet-red autumn foliage.
Berries not only provide ornamental value, they can also provide food for wildlife. A wonderful species to use in the landscape is Aronia arbutifolia 'Brilliantissima' (Red Chokeberry).  Clusters of spring blooming white to light pink flowers provide a goldmine for pollinators followed by dense clusters of glossy red fruit that ripen in late summer and can persist through winter. Need an alternative for the evil burning bush? The fierce red foliage of this plant in the fall makes it a great alternative.