Mar 09, 2015 – New Products – by Will Mattukonis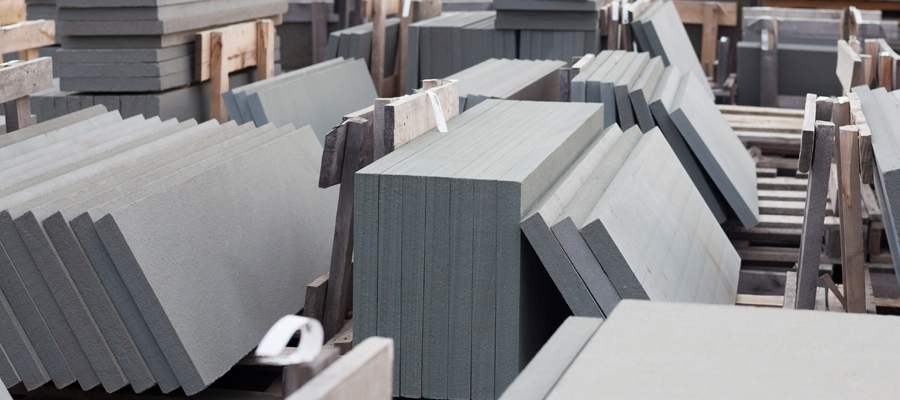 When it comes to natural stone used in the landscape, one cannot deny the beauty and flexibility of bluestone.  Bluestone is a sedimentary stone, deposited throughout the New York and Pennsylvania area during the Devonian period 350 million years ago.  The variations in color of the sand as well as other minerals that are deposited lend to bluestone's inherent range of quarried colors.  
At Cavicchio's we offer bluestone as pattern stock, treads, risers, cutting stock, irregular flagging, and custom cut to order. The varieties available in pattern stock and irregular flagging are full color natural cleft, true blue natural cleft, and true blue thermal finished.   
True Blue bluestone comes in a relatively tight range of blue shades. Full color bluestone comes in a range of colors: blue, grey, green, and brown bases with mineral deposits of iron ferrite, calcium, and others make a broad palette of available colors.  Natural cleft stone is characterized by the undulating, ridged surface of the face. This is achieved by "peeling" the stone from quarry shelves in layers formed by natural deposition. Thermal finished stone is sawn into slabs from large blocks and then torched to create a slightly rough, even texture on the face of the stone.  
The broad variety of colors, finishes and uses of bluestone makes it an indispensible facet of the landscaping and construction industry. Stop by the stone yard at Cavicchio Greenhouses, Inc. to see the wide selection of bluestone material ready to be incorporated into your next project.  
-Will Mattukonis, Landscape Sales